Karolina Wegrzyn is a self-taught artist from Poland.
Since 2013 co-editor in the Polish Tolkienists Almanac
Aiglos
.
Publications
:
Cthulhu City, The Fall of Delta Green and other titles, Pelgrane Press Ltd 2017-2018
Aiglos 20-22, Slaski Klub Fantastyki 2015-2017
RAAbits Ethik/Philosophie May 2014
Aiglos Special Issue II, Slaski Klub Fantastyki 2012
Aiglos 16-17, Slaski Klub Fantastyki 2011-2012
EMG-Zine May, Ellen Million Graphics 2009
Amazing Events #003, CGWaves Publishing 2009
Inne umysly, serca i dlonie antology, 2008
Create Magazine April+May 2008

+ Exhibition at Oxonmoot 2016, Oxford, UK
+ Exhibition at Oxonmoot 2015, Oxford, UK
+ Exhibition in Silesian Library ("Tolkien - zadziwiajaca podroz"), Katowice, Poland
+ Exhibition at Oxonmoot 2014, Oxford, UK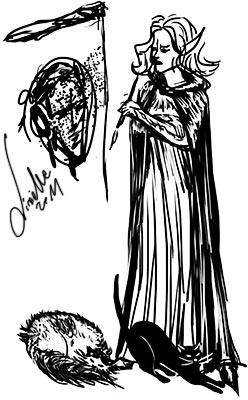 The content of this web site is
© Karolina Wegrzyn, all rights reserved.